JunkieShop is the place where you promote and sell your product..The file must be uploaded in a textdocument with your product link ... JunkieShop does not host files in large formats ...
So the files in the textdocument in the zip file uploaded with a link to the product being sold....

The customer downloads a zip file with your product link !!!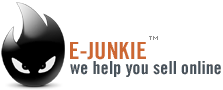 Sell and Distribute Your Digital Products
We provide a service to sell downloadable items such as:
software, eBooks, music, movies, graphics, manuals and how-tos and anything else that can be downloaded.
Sell Digital Products
Start publishing your digital products and downloads within minutes. We ask only that you verify your account with a small paypal payment.